Strict Standards
: Non-static method GDPTDB::insert_posts_views() should not be called statically, assuming $this from incompatible context in
/home3/gevers/public_html/internetbin/wp-content/plugins/gd-press-tools/gd-press-tools.php
on line
1037
Strict Standards
: call_user_func_array() expects parameter 1 to be a valid callback, non-static method GA_Filter::the_content() should not be called statically in
/home3/gevers/public_html/internetbin/wp-includes/plugin.php
on line
199
Strict Standards
: Non-static method GA_Filter::ga_parse_article_link() should not be called statically in
/home3/gevers/public_html/internetbin/wp-content/plugins/google-analytics-for-wordpress/googleanalytics.php
on line
1221
Strict Standards
: Non-static method GA_Filter::ga_parse_article_link() should not be called statically in
/home3/gevers/public_html/internetbin/wp-content/plugins/google-analytics-for-wordpress/googleanalytics.php
on line
1221
Strict Standards
: Non-static method GA_Filter::ga_parse_link() should not be called statically in
/home3/gevers/public_html/internetbin/wp-content/plugins/google-analytics-for-wordpress/googleanalytics.php
on line
1192
Strict Standards
: Non-static method GA_Filter::ga_get_domain() should not be called statically in
/home3/gevers/public_html/internetbin/wp-content/plugins/google-analytics-for-wordpress/googleanalytics.php
on line
1135
Strict Standards
: Non-static method GA_Filter::ga_get_domain() should not be called statically in
/home3/gevers/public_html/internetbin/wp-content/plugins/google-analytics-for-wordpress/googleanalytics.php
on line
1144
Strict Standards
: Non-static method GDPTDB::insert_posts_views() should not be called statically, assuming $this from incompatible context in
/home3/gevers/public_html/internetbin/wp-content/plugins/gd-press-tools/gd-press-tools.php
on line
1037
Strict Standards
: call_user_func_array() expects parameter 1 to be a valid callback, non-static method GA_Filter::the_content() should not be called statically in
/home3/gevers/public_html/internetbin/wp-content/plugins/yet-another-related-posts-plugin/includes.php
on line
271
Strict Standards
: Non-static method GA_Filter::ga_parse_article_link() should not be called statically in
/home3/gevers/public_html/internetbin/wp-content/plugins/google-analytics-for-wordpress/googleanalytics.php
on line
1221
Strict Standards
: Non-static method GDPTDB::insert_posts_views() should not be called statically, assuming $this from incompatible context in
/home3/gevers/public_html/internetbin/wp-content/plugins/gd-press-tools/gd-press-tools.php
on line
1037
Strict Standards
: call_user_func_array() expects parameter 1 to be a valid callback, non-static method GA_Filter::the_content() should not be called statically in
/home3/gevers/public_html/internetbin/wp-content/plugins/yet-another-related-posts-plugin/includes.php
on line
271
Strict Standards
: Non-static method GA_Filter::ga_parse_article_link() should not be called statically in
/home3/gevers/public_html/internetbin/wp-content/plugins/google-analytics-for-wordpress/googleanalytics.php
on line
1221
Strict Standards
: Non-static method GA_Filter::ga_parse_article_link() should not be called statically in
/home3/gevers/public_html/internetbin/wp-content/plugins/google-analytics-for-wordpress/googleanalytics.php
on line
1221
Strict Standards
: Non-static method GA_Filter::ga_parse_link() should not be called statically in
/home3/gevers/public_html/internetbin/wp-content/plugins/google-analytics-for-wordpress/googleanalytics.php
on line
1192
Strict Standards
: Non-static method GA_Filter::ga_get_domain() should not be called statically in
/home3/gevers/public_html/internetbin/wp-content/plugins/google-analytics-for-wordpress/googleanalytics.php
on line
1135
Strict Standards
: Non-static method GA_Filter::ga_get_domain() should not be called statically in
/home3/gevers/public_html/internetbin/wp-content/plugins/google-analytics-for-wordpress/googleanalytics.php
on line
1144
Strict Standards
: Non-static method GA_Filter::ga_parse_article_link() should not be called statically in
/home3/gevers/public_html/internetbin/wp-content/plugins/google-analytics-for-wordpress/googleanalytics.php
on line
1221
Strict Standards
: Non-static method GA_Filter::ga_parse_link() should not be called statically in
/home3/gevers/public_html/internetbin/wp-content/plugins/google-analytics-for-wordpress/googleanalytics.php
on line
1192
Strict Standards
: Non-static method GA_Filter::ga_get_domain() should not be called statically in
/home3/gevers/public_html/internetbin/wp-content/plugins/google-analytics-for-wordpress/googleanalytics.php
on line
1135
Strict Standards
: Non-static method GA_Filter::ga_get_domain() should not be called statically in
/home3/gevers/public_html/internetbin/wp-content/plugins/google-analytics-for-wordpress/googleanalytics.php
on line
1144
Strict Standards
: Non-static method GA_Filter::ga_parse_article_link() should not be called statically in
/home3/gevers/public_html/internetbin/wp-content/plugins/google-analytics-for-wordpress/googleanalytics.php
on line
1221
Strict Standards
: Non-static method GA_Filter::ga_parse_link() should not be called statically in
/home3/gevers/public_html/internetbin/wp-content/plugins/google-analytics-for-wordpress/googleanalytics.php
on line
1192
Strict Standards
: Non-static method GA_Filter::ga_get_domain() should not be called statically in
/home3/gevers/public_html/internetbin/wp-content/plugins/google-analytics-for-wordpress/googleanalytics.php
on line
1135
Strict Standards
: Non-static method GA_Filter::ga_get_domain() should not be called statically in
/home3/gevers/public_html/internetbin/wp-content/plugins/google-analytics-for-wordpress/googleanalytics.php
on line
1144
Strict Standards
: Non-static method GA_Filter::ga_parse_article_link() should not be called statically in
/home3/gevers/public_html/internetbin/wp-content/plugins/google-analytics-for-wordpress/googleanalytics.php
on line
1221
Strict Standards
: Non-static method GA_Filter::ga_parse_link() should not be called statically in
/home3/gevers/public_html/internetbin/wp-content/plugins/google-analytics-for-wordpress/googleanalytics.php
on line
1192
Strict Standards
: Non-static method GA_Filter::ga_get_domain() should not be called statically in
/home3/gevers/public_html/internetbin/wp-content/plugins/google-analytics-for-wordpress/googleanalytics.php
on line
1135
Strict Standards
: Non-static method GA_Filter::ga_get_domain() should not be called statically in
/home3/gevers/public_html/internetbin/wp-content/plugins/google-analytics-for-wordpress/googleanalytics.php
on line
1144
Strict Standards
: Non-static method GA_Filter::ga_parse_article_link() should not be called statically in
/home3/gevers/public_html/internetbin/wp-content/plugins/google-analytics-for-wordpress/googleanalytics.php
on line
1221
Strict Standards
: Non-static method GA_Filter::ga_parse_link() should not be called statically in
/home3/gevers/public_html/internetbin/wp-content/plugins/google-analytics-for-wordpress/googleanalytics.php
on line
1192
Strict Standards
: Non-static method GA_Filter::ga_get_domain() should not be called statically in
/home3/gevers/public_html/internetbin/wp-content/plugins/google-analytics-for-wordpress/googleanalytics.php
on line
1135
Strict Standards
: Non-static method GA_Filter::ga_get_domain() should not be called statically in
/home3/gevers/public_html/internetbin/wp-content/plugins/google-analytics-for-wordpress/googleanalytics.php
on line
1144
Strict Standards
: Non-static method GA_Filter::ga_parse_article_link() should not be called statically in
/home3/gevers/public_html/internetbin/wp-content/plugins/google-analytics-for-wordpress/googleanalytics.php
on line
1221
Strict Standards
: Non-static method GA_Filter::ga_parse_link() should not be called statically in
/home3/gevers/public_html/internetbin/wp-content/plugins/google-analytics-for-wordpress/googleanalytics.php
on line
1192
Strict Standards
: Non-static method GA_Filter::ga_get_domain() should not be called statically in
/home3/gevers/public_html/internetbin/wp-content/plugins/google-analytics-for-wordpress/googleanalytics.php
on line
1135
Strict Standards
: Non-static method GA_Filter::ga_get_domain() should not be called statically in
/home3/gevers/public_html/internetbin/wp-content/plugins/google-analytics-for-wordpress/googleanalytics.php
on line
1144
Strict Standards
: Non-static method GA_Filter::ga_parse_article_link() should not be called statically in
/home3/gevers/public_html/internetbin/wp-content/plugins/google-analytics-for-wordpress/googleanalytics.php
on line
1221
Strict Standards
: Non-static method GA_Filter::ga_parse_link() should not be called statically in
/home3/gevers/public_html/internetbin/wp-content/plugins/google-analytics-for-wordpress/googleanalytics.php
on line
1192
Strict Standards
: Non-static method GA_Filter::ga_get_domain() should not be called statically in
/home3/gevers/public_html/internetbin/wp-content/plugins/google-analytics-for-wordpress/googleanalytics.php
on line
1135
Strict Standards
: Non-static method GA_Filter::ga_get_domain() should not be called statically in
/home3/gevers/public_html/internetbin/wp-content/plugins/google-analytics-for-wordpress/googleanalytics.php
on line
1144
Strict Standards
: Non-static method GA_Filter::ga_parse_article_link() should not be called statically in
/home3/gevers/public_html/internetbin/wp-content/plugins/google-analytics-for-wordpress/googleanalytics.php
on line
1221
Strict Standards
: Non-static method GA_Filter::ga_parse_link() should not be called statically in
/home3/gevers/public_html/internetbin/wp-content/plugins/google-analytics-for-wordpress/googleanalytics.php
on line
1192
Strict Standards
: Non-static method GA_Filter::ga_get_domain() should not be called statically in
/home3/gevers/public_html/internetbin/wp-content/plugins/google-analytics-for-wordpress/googleanalytics.php
on line
1135
Strict Standards
: Non-static method GA_Filter::ga_get_domain() should not be called statically in
/home3/gevers/public_html/internetbin/wp-content/plugins/google-analytics-for-wordpress/googleanalytics.php
on line
1144
Strict Standards
: Non-static method GA_Filter::ga_parse_article_link() should not be called statically in
/home3/gevers/public_html/internetbin/wp-content/plugins/google-analytics-for-wordpress/googleanalytics.php
on line
1221
Strict Standards
: Non-static method GA_Filter::ga_parse_link() should not be called statically in
/home3/gevers/public_html/internetbin/wp-content/plugins/google-analytics-for-wordpress/googleanalytics.php
on line
1192
Strict Standards
: Non-static method GA_Filter::ga_get_domain() should not be called statically in
/home3/gevers/public_html/internetbin/wp-content/plugins/google-analytics-for-wordpress/googleanalytics.php
on line
1135
Strict Standards
: Non-static method GA_Filter::ga_get_domain() should not be called statically in
/home3/gevers/public_html/internetbin/wp-content/plugins/google-analytics-for-wordpress/googleanalytics.php
on line
1144
Strict Standards
: Non-static method GA_Filter::ga_parse_article_link() should not be called statically in
/home3/gevers/public_html/internetbin/wp-content/plugins/google-analytics-for-wordpress/googleanalytics.php
on line
1221
Strict Standards
: Non-static method GA_Filter::ga_parse_link() should not be called statically in
/home3/gevers/public_html/internetbin/wp-content/plugins/google-analytics-for-wordpress/googleanalytics.php
on line
1192
Strict Standards
: Non-static method GA_Filter::ga_get_domain() should not be called statically in
/home3/gevers/public_html/internetbin/wp-content/plugins/google-analytics-for-wordpress/googleanalytics.php
on line
1135
Strict Standards
: Non-static method GA_Filter::ga_get_domain() should not be called statically in
/home3/gevers/public_html/internetbin/wp-content/plugins/google-analytics-for-wordpress/googleanalytics.php
on line
1144
If you're new here, you may want to subscribe to my RSS feed. Thanks for visiting!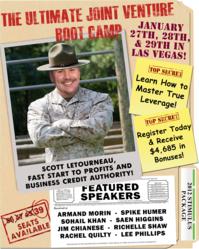 Las Vegas, NV (PRWEB) December 06, 2011
One man is on a mission to help businesses succeed and become one of the Top 5% that not only survive, but thrive in such tumultuous economic times. Scott Letourneau, CEO of Nevada Corporate Planners, is conducting The Ultimate Joint Venture Boot Camp being held Jan, 27th-29th, 2012 will take small business owners through a step-by-step process on how to leverage an ancient strategy used by nations leaders, in times of war and quite successfully by businesses known as host/beneficiary relationships. This one strategy allows business owners to grow their business at almost zero cost.
"In today's economy, especially in the United States, about 95% of business owners fail within five years. One of our goals for small business owners is to beat the odds. Most small business owners don't have the cash flow and capital for advertising to grow. At The Ultimate Joint Venture Boot Camp our world-class trainers will help solve this problem for small business owners," added Letourneau.
Joint ventures, strategic alliances and host/beneficiary relationships are a way of working together with others that will benefit all parties involved. Letourneaus unique Joint Venture Boot Camp will teach the A to Z blueprints needed to leverage relationships in order to bring enormous profits to small business owners. Attendees will gain skills on how to establish and leverage joint ventures, understand their magnitude, and learn the dos and donts of a joint venture.
Speakers at The Ultimate Joint Venture Boot Camp (held at the Gold Coast Casino in Las Vegas, January 27th -29th, 2012 from 9:00 a.m. to 6:00 p.m.) include world-renowned professionals in business: Scott Letourneau, CEO of Nevada Corporate Planners and Fast Business Credit; Spike Humer, an international expert at engineering entrepreneurial success stories; Armand Morin, an Internet strategist and marketing authority; Lee Phillips, a counselor to The Supreme Court and asset protection expert; Sohail Khan, President of The Joint Venture University; Jump Start Jim, a social media and relationship marketing specialist; and Rachel Quilty, Authority on Personal Branding, CEO and owner of Jump the Q
Related Internet marketing tool news:
Best posts on Internet Marketing Strategies – Online Marketing Tools from Jan 2012 Too many posts to handle? If you missed out on...